taking myself serious? It's a weird thought...but here goes. I'm actually going to attend a conference! Sure it's not the big NYC one next weekend (anyone going to that?), but a smaller one day conference in San Diego. I'm working on my port and promotional stuff, but I felt like i needed some sort of business card...just in case.
here are a couple of prototypes - I wonder what you'll think...maybe you can comment? I'm probably going to have them printed up this week (the conference is on Feb. 7th).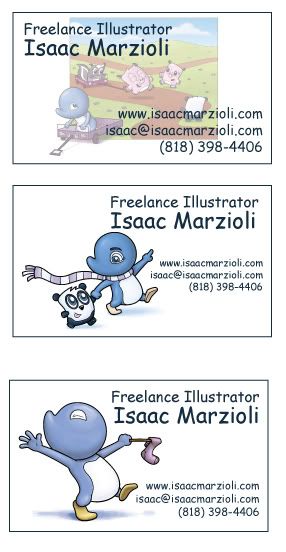 would you even include one image? I mean, if it's a great one then terrific - but way back in school I think I remember someone saying something about how if you put that you're this or that or include a picture that they'll maybe only think you can do that one thing...? I'm obviously keeping my cards very simple...I was thinking of putting an image in full color on the back and then my info on the front...and it's not that much more expensive...